Atlanta Hydro-Jetting Services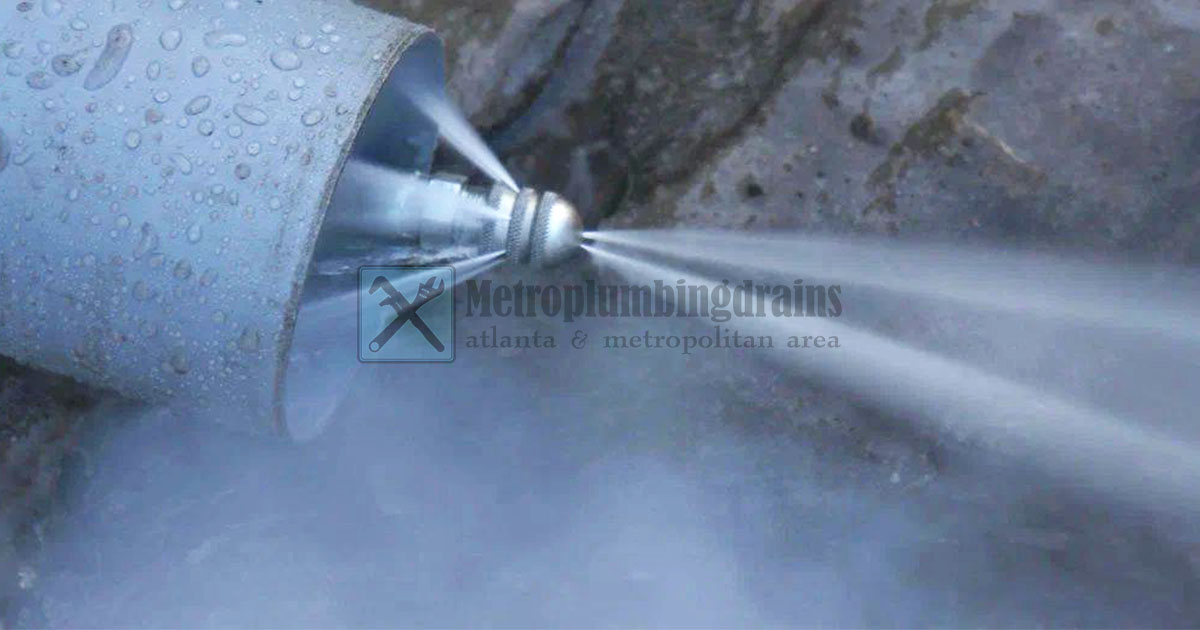 Hydro Jet Sewer Line Cleaning Services for Atlanta and the Metro Area
Metroplumbingdrains provides highly efficient and high quality hydro jet sewer line unclogging and cleaning service to the Atlanta and Metropolitan area. This applies to both civil and commercial properties.
What is hydro (sewer) jet?
In hydro jetting, a powerful stream of water is created. The water is forced through a small nozzle at high velocity, creating intense force. Hydro jetting can be used to break concrete or rocks, remove tree roots, and more. Since relatively recently, hydro jetting has been used in the plumbing industry. It is an extremely effective method that allows the plumber to unclog and restore the sewer pipes and lines to their full functionality. Hydro-jetting machines, which use a high-pressure water stream, are an excellent solution for cleaning:
grease;
limescale;
heavy accumulations;
various build-ups;
sanitary paper;
random waste;
tree roots;
Our experienced plumbers and their advanced equipment are waiting for your calls 24 hours a day.
Hydro Jet vs. Snaking
Sewer jetting is a much more efficient method than any other method used in the business so far. This includes the traditional method called "snaking" and the use of blades or even drain rods.
The snaking only breaks up clogs, but grease and debris can remain stuck to your pipes. And that can lead to other blocks in the future and even burst pipes or sewer line damage. Hydro jetting uses high-pressure water through a special nozzle. Once the high-pressure water is inside the sewer line, it easily pierces through and flushes out even the worst clogs. Depending on the situation, different sized nozzles are used for the water jet. The water is shot through with such high intensity and force that it is unmatched even by manual labor. Additionally, the water is much more capable of bending around curved or angled pipes to reach any tight spots. In this aspect, the waterjet solution is unrivaled.
Sewer jetting: the most effective method to revive your sewer system
Sewer jetting is the most effective method for completely cleaning drain and sewer pipes and restoring them to their original diameter. Some property owners, as well as owners of fast-food businesses, restaurants, etc., need water jetting for their sewer system more often. This is determined by the amount of buildup, grease, oils, fats, tree roots inside the sewer and drain lines.
Preferences of hydro jet sewer line cleaning:
perfectly unclogs and cleans;
keeps drains cleaner for longer;
eco-friendly;
restores the original diameter and full functionality of the pipes;
along with all the buildup and dirt on the pipe walls, washes away all the bacteria.
Why is sewer jetting a highly specialised service and you need a professional plumber?
A proper inspection of the pipes with a high-tech camera should be done before water jetting begins. After making sure the pipes are not broken, destroyed, or cracked, we set the hydro jetting machine to the proper water pressure, and the job begins. Once the blasting process is complete, we again use a sewer camera inspection to verify the results. This is why Hydro Jet Sewer Line Cleaning Service should be done by the experts. Water jets can reach up to 5000 psi., and unprofessional errors are unacceptable.