Atlanta repiping services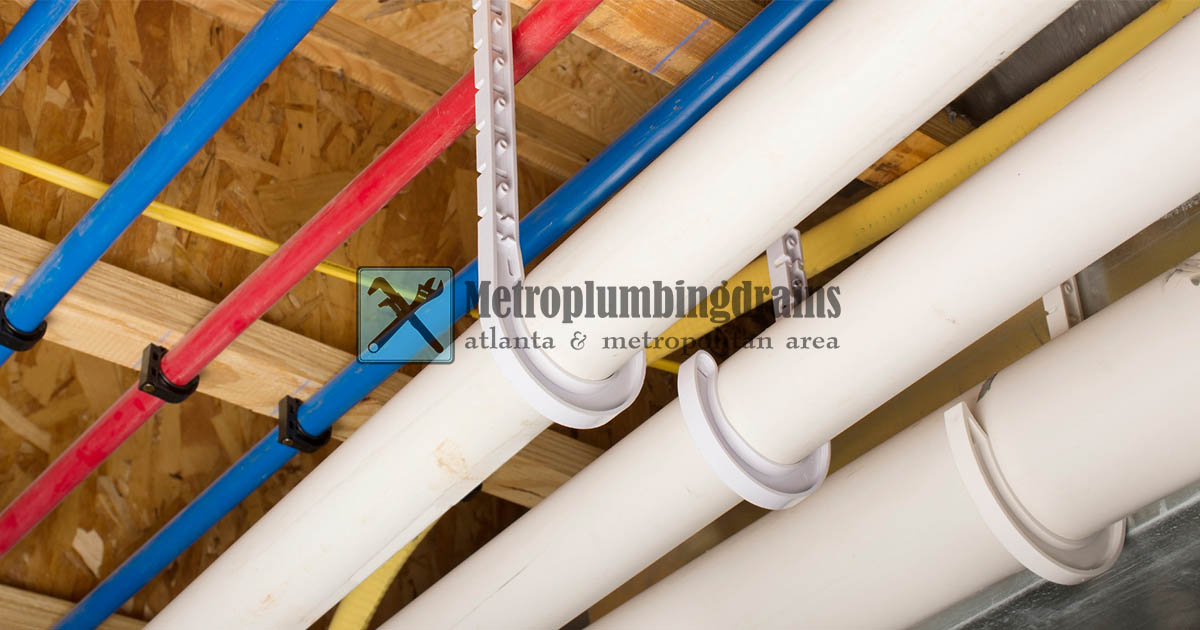 What is repiping service for Atlanta and the Metro area?
Repiping is usually a complete replacement of the main water line pipes in your property. Your old pipes are removed, and new quality pipes are installed in their place. Pipes that will supply you with water from the municipal source, to every tap and faucet in your home. The installation of a new water system includes the pipes for both your cold and hot water. We provide repiping for both the main water line (clean water) and the main sewer line (waste water) at the property. For the repipe drain we most often replace cast iron pipes with pvc. For clean water we replace cpvc , cooper, polybutylene, galvanize with PEX (or whatever the customer wants).
When is it necessary to do repiping and a complete water line replacement?
The most common reason for repiping and water line replacement is an irreparably older plumbing system. If you own a property whose pipes haven't been replaced in 50-100 years, it's very likely that you need repiping service. The pipes themselves will "tell" you that it's time to take this step. Typically, these are very old copper or galvanized pipes. Frequent failures, bursts, leaks, and poor drinking water quality (due to rust, corrosion, bacteria, etc.) are all signs that something is wrong with your water line system and the outdated pipes on your property. Another reason for repiping is a poorly done repair or a poorly planned plumbing system. In recent years, there have been shocking cases of low-quality polyethylene pipes across US.
If you have decided to sell your property, repiping is a good solution to raising its price. If you've experienced some sort of disaster (flood, fire, earthquake, etc.) and are getting ready to do restorative, or you've just decided to start major repairs to your home, consider repiping your plumbing system as well.
We are a licensed plumbing company that offers whole house repiping services in Atlanta and the metro area. We are available for emergency calls 24/7
What is included in the repiping procedure?
Preparatory work.
Repiping.
Completion activities.
With the start of the preparatory work on your water system, the water in your property will be shut off. PEX pipes are a modern alternative to copper and galvanized pipes. Repiping with PEX pipes usually takes a day or two, up to 3 days in some cases. This mostly depends on the size of the property and the plumbing system. This is why it is necessary to contact a certified professional plumber for an honest and accurate estimation before beginning plumbing work.
Preparatory activities
In order to reach your water line pipes, we will need to perform some activities related to breaking or drilling the walls of your home. Remember, we are not talking about the repair of a single pipe, but the replacement of the pipes of your entire water system. The activities in question will be precisely done, but they are still actions that cause the release of a solid amount of dust and other small particles. Therefore, before we start, you should cover your furniture and belongings with nylon or another covering to prevent them from getting dirty. We will let you know in advance in which parts of your home or property we will be making repairs so that you can take the necessary measures.
Some of the work requires certain permits from the municipality and city authorities, which we, as a certified plumbing company, provide in a timely manner. All necessary costs associated with these permits and activities are pre-calculated in the service price. You do not need to do anything.
Repiping
Our plumbers will remove your old pipes and install your brand-new plumbing system with PEX pipes in their place (unless you want something else). Wherever you need drinking water and water for everyday needs, we'll provide access to it. Areas such as bathrooms, kitchens, toilets, wet rooms, powder rooms, or separate toilets will all be catered for by the new pipes. We can guarantee that we will do our best to make this happen as quickly, cleanly, and without major disruption to your daily life as possible.
Completion of the repiping
Once the new pipes are installed, we'll run a few tests to make sure your new plumbing system is functioning properly. When we're convinced everything is fine, we'll get to work filling the holes in the walls and cleaning your home of the inevitable debris and trash. Certain restoration work will also need to be done. All of this goes into our service, and unless you wish to hire your own company or handyman for the purpose – we will carry it out in quality and professionally.
Contact us for expertise and repiping in Atlanta and the Metro area
Contact us if you need an assessment of your plumbing system and pipes. We'll provide an honest assessment to determine if your property needs a complete repiping or just certain repairs to your water line. For such expertise, you need a professional, certified plumber.