Atlanta Sewer Plumbing Services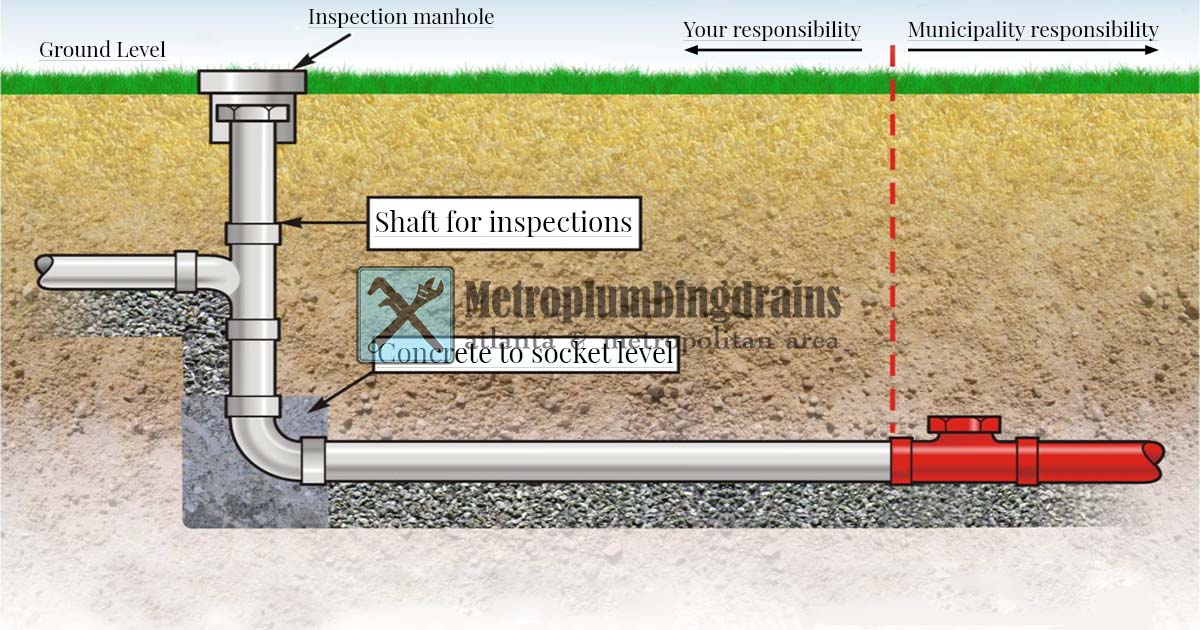 What are the main causes and signs of failure on your main sewer line?
The most common causes that lead to failures in your main sewer line range from pipe deterioration and breaks due to aging; accumulation of all sorts of junk like grease, sludge, toilet paper, etc.; tree roots penetrating through joints; severe temperature inversions; to bad design and sloppy installation.
Signs of failure or breaks of your sewer line:
flooded areas in your yard;
not draining water into your bathroom, bathtub, or toilet;
strong smell of dirty sewage in your basement, yard, and other parts of your property;
gurgling, strange noises, or a lack of water in your toilet;
a growth of fresh, green grass around your main sewer line in your yard.
If you notice or sense any of these signs, call us immediately!
Sewer line emergencies are serious and usually require immediate intervention by a professional plumber. We accept emergency calls 24 hours a day, including holidays.
What is the difference between sewer line repair and sewer line replacement?
When your main sewer pipe is ruptured and the hole or crack is not too large. Or there is a blockage in the pipe because of which waste water cannot drain into the sewer. In the majority of such cases, repairing your sewer line is the recommended option.
In the case of a more serious failure, like a severe leak caused by a large break in your sewer pipe. Or failures become too frequent as a result of pipe aging deterioration. And also, a sloppy and low-quality installation, failures caused by inadequate sewer system design. In most of these cases, a main sewer line replacement is required.
Diagnostics and types of repairs
When a leak or blockage is found in the sewer pipe, various under pressure tests and diagnostics are performed. This is to find out how serious the damage/leak is. Our intervention may require drain excavation, sewer line excavation or cast iron pipe repair. Replacement of part of the sewer line or the entire main sewer pipe.
If the damage is found to be more serious and your main sewer pipe needs replacing – don't worry. We'll be there for you every step of the way, helping you, explaining, and patiently showing you anything that interests or concerns you.
Once the problem is finally diagnosed, our team will draw up a precise plan of action. This plan will be presented to you and agreed with you down to the smallest detail. The cost of the repair or replacement will also be set out in this plan. All activities to your property will be done with your approval and permission only.
Why you need a certified and honest plumber?
The cost difference between a simple repair and a complete main sewer line replacement is serious. This is why you need a certified and honest plumber. He will give you a correct price for the service based on clear facts and a professional diagnosis of the problem.
Why choose us?
The plumbers from our company hold on to their good name because it has been earned with a lot of efforts. We are accustomed and experienced with the most convoluted and stubborn sewer cases. Such as hard to trace sewer pipes in very old properties or poor-quality installations carried out by unscrupulous colleagues. You can rely on us to respond rapidly to your emergency call. We will pinpoint the problem on your main sewer line and fix it quickly and accurately. All of this will be done at a correct and affordable cost to you.
3 useful tips related to faults or avoiding faults on your main sewer line
Remove trees that are damaging the sewer pipe after repairs have been made caused by roots penetrating the joints.
Proper treatment of the sewer system. Only dispose human waste and toilet paper in your toilets
At least once every 1.5 or at most 2 years, call a professional to check your sewer system. Usually, a special camera is used to inspect the main sewer line.